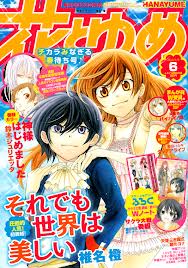 Soredemo Sekai wa Utsukushii, also known as "Even So, The World is Beautiful," is a manga series that began serialization in 2012. An anime television series adaptation by Pierrot aired in April 2014.
Nike, the fourth princess of the Rain Dukedom and one who holds the power to call forth the rain, travels to the Sun Kingdom to marry Sun King Livius for her country, despite her own reluctance. She soon discovers that the King, who conquered the world in only three years after his ascendance to the throne, is still a child!! Furthermore, for trivial reasons, he has demanded that Nike call forth the rain…!?
Manga & Anime
Edit
List of Manga Chapters- click here
List of Episodes- click here
Ad blocker interference detected!
Wikia is a free-to-use site that makes money from advertising. We have a modified experience for viewers using ad blockers

Wikia is not accessible if you've made further modifications. Remove the custom ad blocker rule(s) and the page will load as expected.