Ad blocker interference detected!
Wikia is a free-to-use site that makes money from advertising. We have a modified experience for viewers using ad blockers

Wikia is not accessible if you've made further modifications. Remove the custom ad blocker rule(s) and the page will load as expected.
The priest who put a halt to
Livius
and
Nike
's engagement.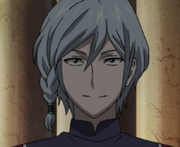 Rani Aristels
Edit
Aristels is the Sun Kingdom priest and he hates Livius, which is why he rejected their engagement and put an attempt to end Nike's life. He also doesn't want Livius on the throne because his mother was a commoner. Towards the end of the first arc, Rings of Tale, Aristel accepts Livius as the Sun Kingdom's King.